Performance: XP vs. Vista vs. Vista x64
Публикувано от to4i ·
559 прегледа
Benchmarking in Vista is an extremely difficult task, thanks to features like SuperFetch designed to improve performance at the sacrifice of repeatability. We're in love with SuperFetch as a feature, but it does make our jobs a bit more difficult as we have to be very mindful of what has been cached into main memory and how that impacts the performance of our benchmarks. Testing difficulties under Vista are compounded by the fact that our major test suites don't work under the new OS. SYSMark and PC WorldBench simply won't run and thus we have to rely on individual application tests and home-brew scripts to measure performance.
Our goal for this article was to find out if Windows Vista, on modern day hardware, continues to be slower than Windows XP as it has been in previous beta and RC versions. The secondary goal is to look at x64 performance to see if it too has changed behavior, to the point where you no longer need to worry about losing 32-bit performance if you move to the 64-bit version of Vista. We ran a handful of application tests to compare the three OSes (XP, Vista and Vista x64), and later on we'll focus on gaming tests as well to showcase graphics performance.
PCMark '05 Performance
Despite looking quite synthetic, PCMark has grown into a nice lightweight alternative to the big application suite benchmarks like SYSMark. It was also one of the first benchmarks to get official Vista support, although it remains a 32-bit only test.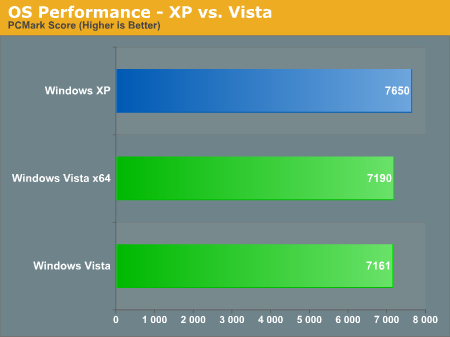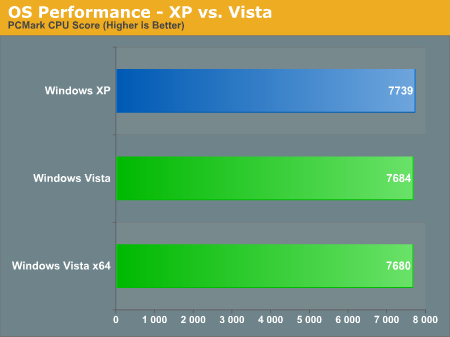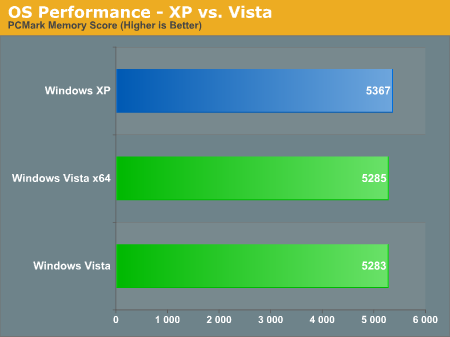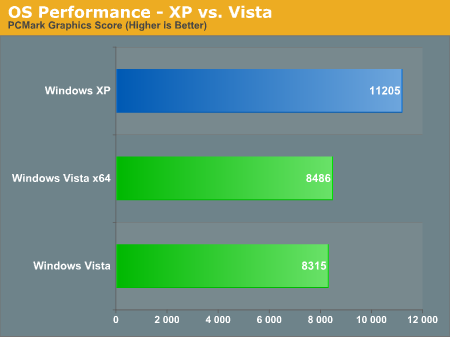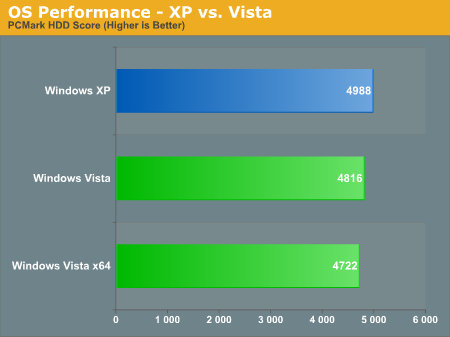 Performance under PCMark is fairly close between Vista and XP, with XP generally holding on to a 1% - 4% performance advantage in most of the categories. The only exception to the rule is the graphics score of PCMark which has XP at around 35% ahead of Vista, but we'll address graphics performance shortcomings of Vista later in the article.
The difference between the 32-bit and 64-bit versions of Vista are hardly pronounced, with the two being evenly matched across the board. Once again, remember that PCMark is a 32-bit benchmark so it is running in Windows on Windows (WOW64) mode. That it can remain competitive is good news, but whether that's because WOW64 works well in all cases or it is merely optimized for PCMark05 remains to be seen.
3DMark '06 Performance
We chose to include 3DMark '06 performance here instead of with our game tests to look at the gaming performance of Vista on a system level rather than a GPU level: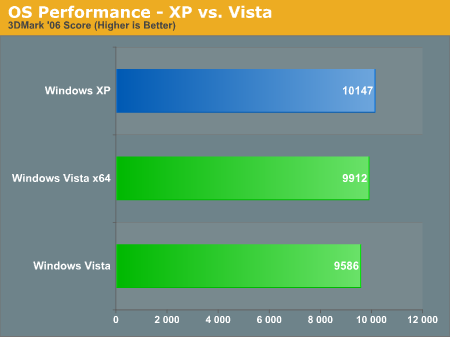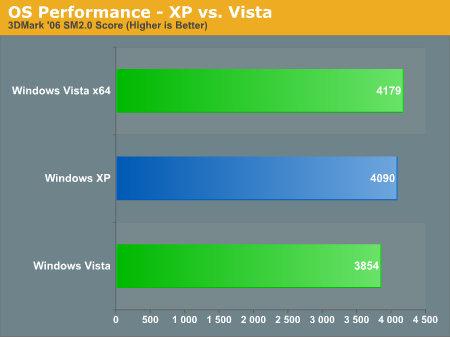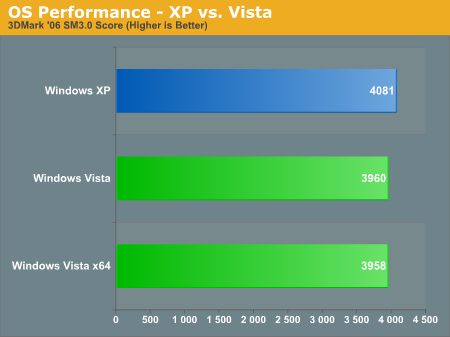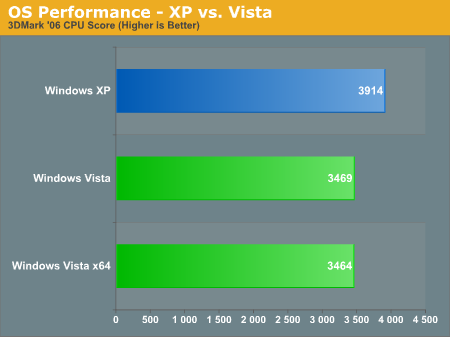 Overall XP is about 6% faster than Vista, although the 3DMark06 CPU score is nearly 13% higher on XP than it is on Vista. As a 32-bit benchmark, it's once again good to see no negative performance difference between the Vista x86 and x64 versions.
General Application Performance
3dsmax Performance
Our 3dsmax 8 tests are particularly interesting under Vista because they showcase the poor OpenGL performance of current Vista GPU drivers in something that isn't a 3D game: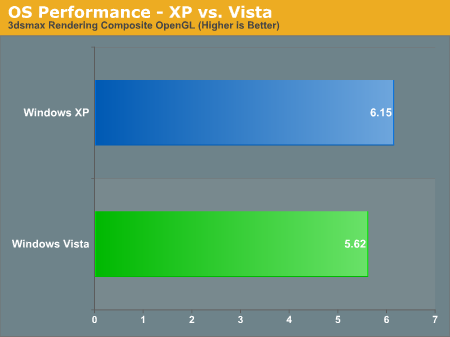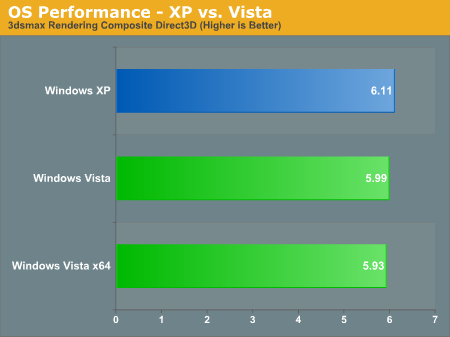 If we switch to Direct3D for 3dsmax, the performance delta narrows considerably to the point where XP only has a 2% performance advantage over Vista.
Encoding Performance
Encoding Performance using DivX and WME9 are both slightly slower on Vista than under XP, but the difference is negligible.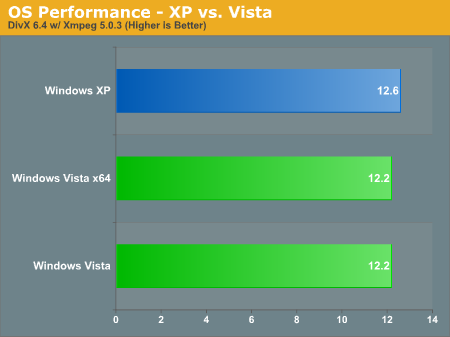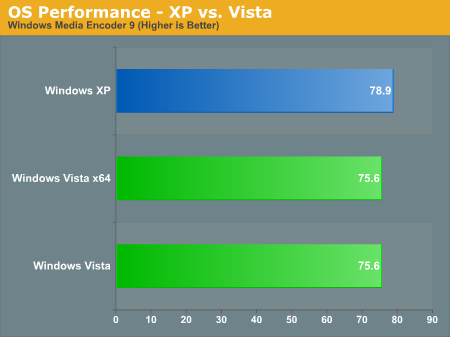 Application Launch Performance
Similar to our earlier ReadyBoost testing, we timed how long it took to open Adobe Photoshop CS3 and 14 images under the three OSes,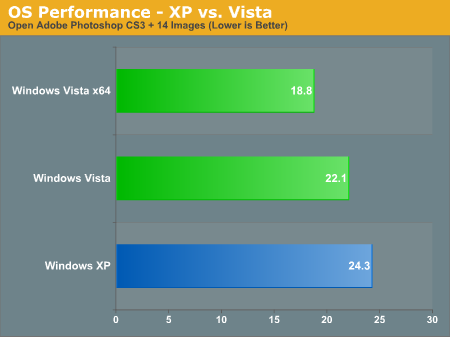 Finally we have a benchmark with Vista is faster than XP, and for some reason Vista x64 is even faster than that.
Office 2007 Performance
Our final two Vista vs. XP tests are from Intel and they measure performance in Microsoft Word 2007 and Excel 2007.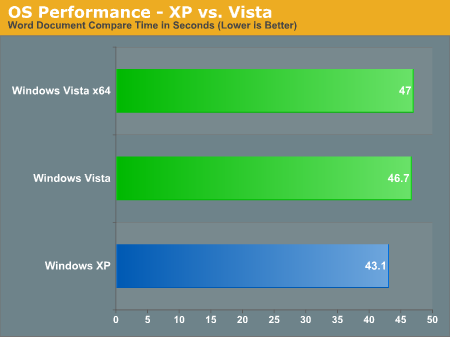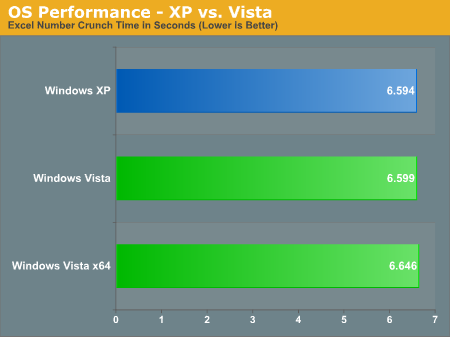 Document comparison performance in Word is about 7% faster under XP than under Vista, while numerical calculations under Excel are about equal under both OSes.
Among those that won't become switchers, Microsoft's own worst enemy is itself, as it needs to prove that Vista is a worthwhile upgrade to XP when XP is already so refined. For many users in the consumer space, Vista is simply a version of Windows where (to borrow a quote from Field of Dreams) "If you build it, they will come." These people will get Vista on their new computers and they'll like it because it is good, but having never had the chance to decide if they didn't want it.
For everyone else who does get a choice, more often than not we believe the choice will be Vista. As we've stated before it's not perfect, but it's quite good. There are some very good reasons not to use it in some cases (system requirements, compatibility, and OpenGL performance), but for those machines that the above do not apply to, there are numerous useful features in Vista that warrant an upgrade if you find that you're the kind of person that will use them. Vista's SuperFetch and Search technology are both reasons enough to migrate from XP, as they easily improve productivity and performance.
Vista is a worthy upgrade and an even better choice as an operating system for a new computer. At the same time there's still ample room to grow; hopefully we'll have even fewer complaints once Service Pack 1 is released later this year. Hopefully Microsoft will spend some time improving features as opposed to simply bug fixing, though, as right now some of the design decisions still need work.
source: AnandTech{...more performence tests}